Home
The Madley Craft Group meet at Madley Village Hall every

Tuesday from 10am to 12 noon

.
We are a friendly, informal group who welcome new members, no skills required. If you would like to learn a new craft or just want to have a chat over a cup of tea/coffee come and join us.
Covid 19
Just for the present time could you please follow the Covid guidelines
* If you are feeling unwell in any way, please do not come.
* Keep the Hall well ventilated.
* Sanitiser is available on entering the Hall.
* Sit 1 metre apart from each other.
* The wearing of face masks is personal preference.
* In one door and out the other.
* Bring your own drinks.
* Please comply with all current Government guidelines after symptoms and/or positive test/contact tracing/returning from foreign travel.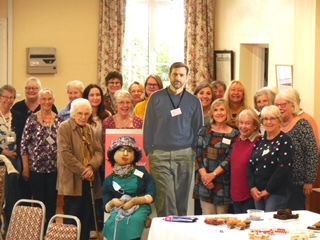 Sharing our post Covid show and tell with Patrick and Purl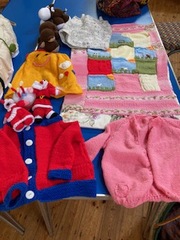 Lovely clothes and toys knitted for Olivia, granddaughter of Diane Harper who lives in Australia. The blanket is for a sister to Olivia, due to be born in November.
******************************************************************
** See our latest SHOW AND TELL in the Photo Album **
*******************************************************************