The Madley Craft Group meet at Madley Village Hall every

Tuesday from 10am to 12 noon

.
We are a friendly, informal group who welcome new members, no skills required. If you would like to learn a new craft or just want to have a chat over a cup of tea/coffee come and join us.
COVID 19
From 1 April almost all restrictions have been lifted. The wearing of masks is no longer mandatory except for visiting Health Care facilities and a few other places.
Testing has finished and we now have to pay for Lateral Flow tests, it's going to be difficult to test for covid now, before coming to a meeting.
The number of people testing positive at the end of March was extremely high, so we still have to be careful as we have a number of vulnerable members who need to feel safe at our meetings.
*
Please do not come to a meeting if you are feeling unwell in any way.
* Enter and exit the hall as directed
* Hand sanitiser is available
* Keep the Hall well ventilated
Bring your own beverage as we are not at the moment using the halls' facilities.
Bring and Buy For Ukraine
This very successful event was organised by Evelyn who, with the aid of craft members, raised over £1000.00 to help towards the Ukraine Crisis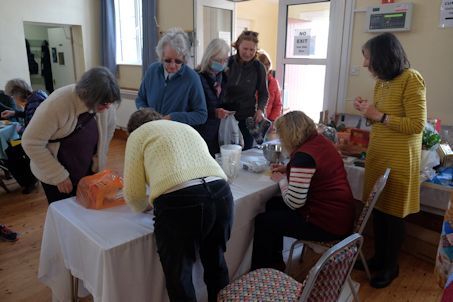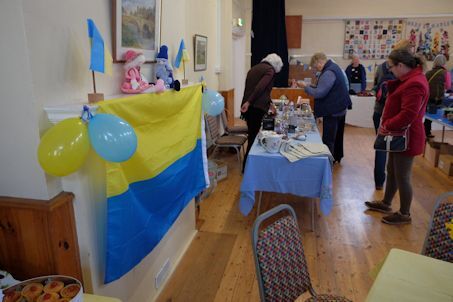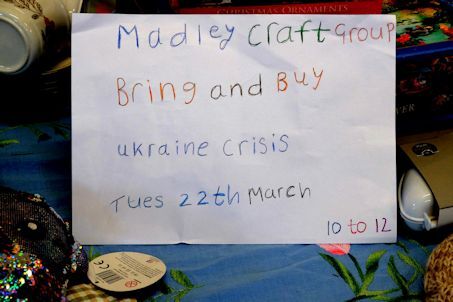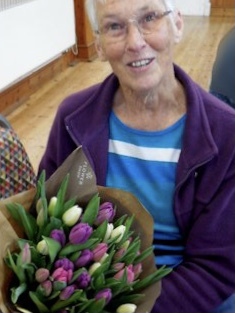 Flowers presented to Rosemary on her 75th Birthday to thank her for all her hard work on behalf of the Group.
******************************************************************
** See our latest SHOW AND TELL in the Photo Album **
*******************************************************************