You will be pleased to hear that it is OK for us continue with our usual Tuesday meetings at Madley Parish Hall with a maximum of 30 attendees. The hall is deemed to be a Covid secure area but we must follow the measures I sent to you on 17 July which include:

In one door and out the other

Sanitise and wash hands regularly

Place the chairs in the bar side room after use with time of use on them

Cleaning the areas of the hall that could be touched before and after use

Keep the hall well ventilated with doors and windows open

Sitting 1 metre plus apart from each other, in a circle around the perimeter of the hall

Wear a face mask

Bring your own flask of tea/coffee if you want a refreshment

If using the toilet, ensure there are no more than 2 people in the toilet area at a time

Clean surfaces touched before and after

W

edge the door to the toilets open alleviating the need to touch anything after washing your hands.

The wearing of Facemasks is MANDATORY

If you are feeling unwell or if you think you have a temperature it would be wise not to attend.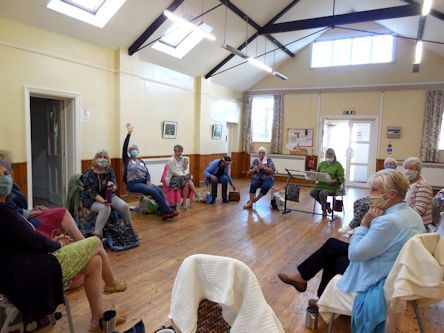 16 members met for the first time in nearly 6 months on 1 September 2020.
The Madley Craft Group meet at Madley Parish Hall every Tuesday 10 am to 12 noon.
This is a friendly and informal group so just bring along any work that you want to complete, or have a problem with.The group always welcome new members; no skills required.
"Come along and learn over a friendly cuppa."
******************************************************************
** See our latest SHOW AND TELL in the Photo Album **
*******************************************************************
Another First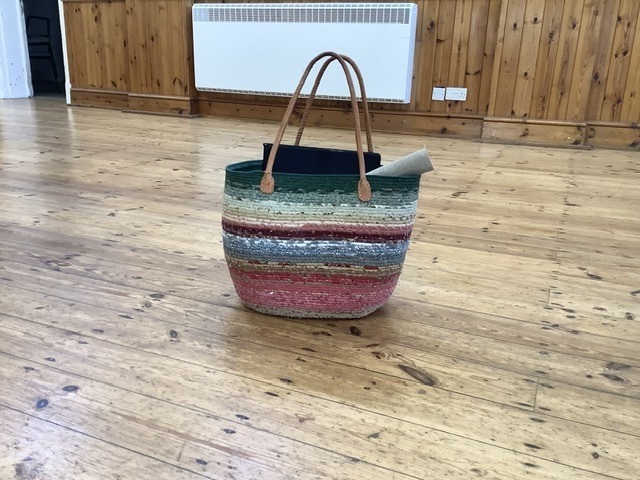 Davina made this beautifully unique basket using the coiled pot method.
MADLEY CRAFT GROUPS DONATIONS TO CHARITY
We have donated over £7,000.00 to various local charities over the years. The money was raised from our monthly raffles and the weekly sales table. As well as cash donations, we have organised Bring and Buy and Coffee mornings for various national charities and also made many items. Probably over 100 knitted teddy bears have been made for Hereford hospital and the local police for children who have had a difficult procedure or interview. Hats were made for premature babies in Tanzania and premature clothes for Hereford hospital. Fiddle mats and muffs for dementia patients were a big hit.